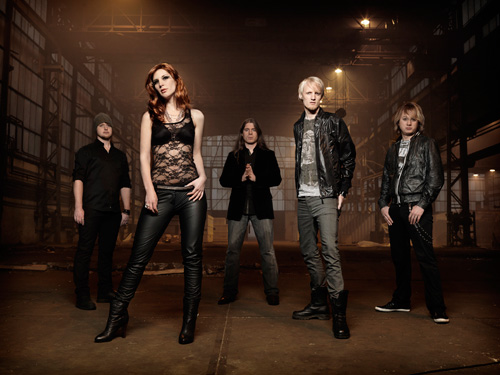 SHORT INFO:
Delain is a symphonic metal band, formed in Zwolle, Netherlands in 2002. The band consists of Charlotte Wessels (vocals), Ewout Pieters (guitars), Otto Schimmelpenninck van der Oije (bass), Martijn Westerholt (keyboards), and Sander Zoer (drums).
Delain was founded by Martijn Westerholt, former pianist of Within Temptation and brother of Within Temptation co-founder Robert Westerholt. Martijn left Within Temptation in 2001 after contracting Pfeiffer's disease. He started Delain in 2002. The band released a demo entitled "Amenity" in 2002 and started recording their debut album "Lucidity" in July 2005, after they had signed a contract with Roadrunner Records.
For their first album "Lucidity" they invited several guest musicians:
Jan Yrlund - guitars (Imperia)
Ariën van Weesenbeek - drums (ex-Pandaemonium, ex-Imperia, ex-God Dethroned, Epica)
Ad Sluijter - guitars (ex-Epica)
George Oosthoek - grunts (ex-Orphanage, After Forever touring member)
Guus Eikens - keyboards (ex-Orphanage)
Sharon den Adel - vocals (Within Temptation)
Marco Hietala - bass, vocals (Tarot, Nightwish)
Liv Kristine - vocals (ex-Theatre of Tragedy, Leaves' Eyes)
At the end of 2007 Delain stated that they intended to release a second album in 2008, but in November 2008, it was announced that the new album "April Rain" would be released on February 9th, 2009. In 2009, "April Rain" was delayed further until March 2009; the title track single, however, was released in February.
Delain was nominated for the category New Sounds of Europe at EMA 2007. They were knocked out on eleventh day. They were also nominated for the TMF Awards 2007 in the category "Best Rock".
Official site: www.delain.nl
ALBUMS: Lucidity - 2006, April Rain - 2009
Most Listened Songs:
Frozen - Preview
April Rain - Preview
The Gathering - Preview
See Me in Shadow - Preview
Shattered - Preview
Sever - Preview
Silhouette of a Dancer - Preview
No Compliance - Preview
Stay Forever - Preview
Daylight Lucidity - Preview
SIMILAR BANDS:
Sirenia
,
Tarot
,
After Forever
,
Xandria
,
Leaves' Eyes
,
Sonata Arctica
,
Delain
,
Epica
,
Within Temptation
,
Tarja
,
Nightwish
...